Goosebumps? The Beast From The East
Written by R.L. Stine
Reviewed by George B (age 10)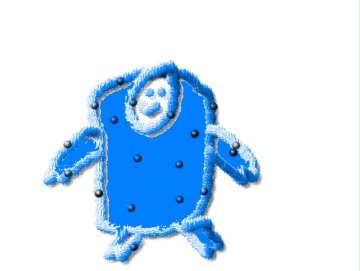 In the deep dark forest the eight-foot tall Beast approached three helpless kids. Fleg, Spork and Gleeb are the three main beasts in this story. They are all eight feet tall, and they have blue fur and very knife like claws. Pat, Nat and Ginger are lost in some strange forest. Pat, Nat and Ginger are humans stuck playing tag with the Beast. But this is not just any game of tag, it is DEADLY tag. It is deadly, because if you lose, the Beasts EAT YOU. The Beasts are playing tag, because it's the game in season.
Fleg is a character that reminds me of myself. He likes to play tag a lot and I like to play tag a lot because I love running around and chasing people. Fleg is also my favorite character, because he is so active. One of the techniques the author uses in this book is how he describes the characters so vividly, like "the shiny black bugs in Flegs fur." I personally liked how he described so well in that little phrase, because it showed me how to make really cool phrases in my writing. There is a lesson in this story. It is to stay close to your camp. I think you should remember whenever you go camping never wonder off without an adult or something strange might happen, because that's what I read in this book.
I would recommend this book for 4th and 5th grade who like scary/funny books. I think my friend Timmy would like this book, because it has a lot of action and Timmy likes action. If you like action, you would like this book too! Remember never wonder off wherever you are!