Dinosaurs Before Dark
Written by Mary Pope Osborne
Illustrated by Sal Murdocca
Reviewed by James M. (age 8) & Loran K. (age 7)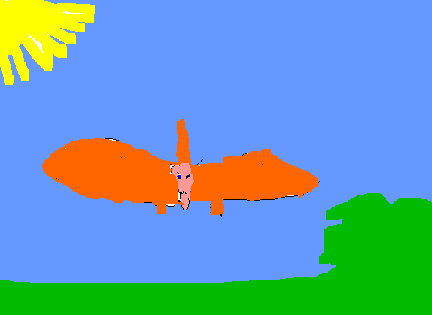 Jack and Annie were walking in the woods. While they were walking, they found a mysterious tree house. Annie climbed up the rope ladder but Annie disappeared in the tree house. Then Jack climbed up the rope ladder. Jack found a book about dinosaurs, he wished he could see a real Ptarandodon dinosaur, and he did. Jack was afraid but Annie wasn't, she went down the rope ladder to pet the Ptarandodon on the head. Then Jack did the same thing. He took some notes. Then Annie wished they were in the time of the dinosaurs. But we won't tell you any more of the story. Now you have to find out what other dinosaurs they find and what else they find.
Loran: I like when they wished they could see a real Ptarandodon because I like Ptarandodons because they can fly. I liked it when the author shown Jack's handwriting. I like the two characters because Jack likes books and I like books. I like Annie because she likes adventures and I like adventures. When I read the book, I felt excited. The book makes me wonder about me riding a Ptarandodon. This is the first book in the Magic Tree House series.
James: I like the book because there are many different dinosaurs and I like dinosaurs. My favorite part is when Annie fed the duckbill dinosaurs right out of her hand. My favorite character was Jack, because he takes notes that are very interesting. I felt that I was in the time of the dinosaurs. It makes me wonder about reptiles because dinosaurs are reptiles.
The book is similar to "Jigsaw Jones" books by James Preller because they are both mystery books and they show handwriting in them.
We recommend this book to people who like dinosaurs and like adventures!