Nancy Drew The Clue in the Diary
Written by Carolyn Keene
Reviewed by S.J. (age 9)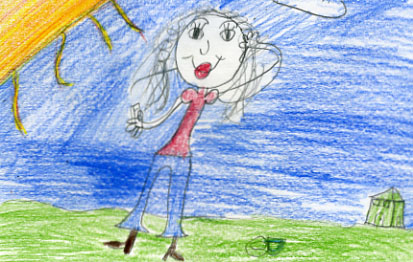 Can Nancy solve the mystery of the diary? In a beautiful house when someone rang the doorbell and a colossal explosion appeared out of nowhere. It was the Raybolt's house. They were known as not nice people. Everyone thinks Joe Swenson put the house on fire. When Nancy got there she saw a man who was running. He dropped a book. It was a diary. When she got to her car a man was jumping in the seat. "Get out of there!" screamed Nancy. Then she meets him. His name is Ned Nickerson. When Nancy got home she went to her room and opened the diary. Most of it was written in Swedish. Very little was in English. Joe Swenson is mailing money to his family. But it wasn't getting there. Someone was stealing it. Now Nancy has 2 mysteries to solve. Will Nancy ever find the criminals? Will Joe Swenson ever get out of jail?
I really enjoyed reading The Clue in the Diary. I like this book because Nancy is a brave girl. She would go on an incredibly dangerous mission just to solve a mystery. Also her friends are nice. Her friends Bess and George are helping her solve the mystery. One more reason is it has exciting parts. Nancy is always on an adventure. I like this book because Nancy is brave, her friends are nice, and it has exciting parts.
I recommend this book to people who like to read mysteries. Each time you get to the next chapter you get butterflies in your stomach. You get excited, scared, or curious. Also this book is very exciting. The mystery is very dangerous. Last, it feels like you are a part of the book. You can feel the way Nancy feels in this book. If you like mysteries, read this book!