Miss Nelson is Missing
Written by James Marshall
Illustrated by James Marshall
Reviewed by J.G. (age 8)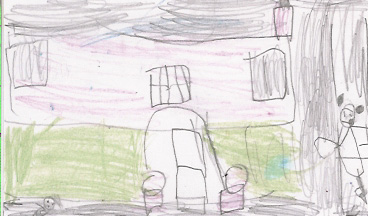 This Story is about the kids in Room 207 in Miss Nelson's class. They were all misbehaving by throwing paper airplanes and being rude at story hour. They refused to do their lessons. They whispered and giggled and made creepy faces. Miss Nelson asked them in a sweet voice to settle down. They did not. She thought something had to be done about their bad behavior. The next day, Miss Swamp came to class instead of Miss Nelson. Miss Nelson told the children that they would not have story hour, to keep their mouths shut and to sit still. She warned them not to misbehave or that they would be sorry. The kids in the class had never worked so hard. Miss Nelson was missing for a few days.
The students in Miss Nelson's class went looking for her. Some went to the police station to try to find her. Others went to Miss Swamp's house. They couldn't find her. The next day, Miss Nelson came in their classroom. Her students were happy that she was back. They were behaving nicely and they were happy she was back. At the end of the day she went home and sang a song about never telling anybody that Miss Swamp was really Miss Nelson.
I enjoyed reading this book. I felt happy when I read this book. It was a good book. I enjoyed the illustrations in the book because they were very colorful. My favorite part of the book was when the children were not behaving.
This book was really good, and I would recommend it to other students. Adults and kids would like reading this book. It is great for people who like mysteries or funny stories.