Stellaluna
Written by Janell Cannon
Illustrated by Janell Cannon
Reviewed by W.S. (age 8)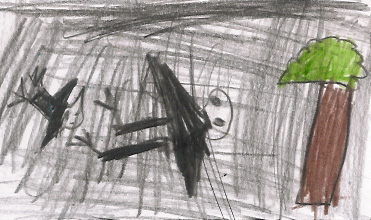 One night the mother bat got separated from her baby named Stellaluna. The baby ended up falling into a bird nest. Stellaluna started behaving like a bird and not like a bat. Once she was seen by other bats hanging by her thumbs not her feet they wondered why she was not acting like a bat. Stellaluna's mother asked her some questions and realized she was her baby and taught her all about being a bat.
I enjoyed reading this book. My favorite part of this book was when her mom found her. Stellaluna was an interesting character in the book because she acted like a bird.
This book was really exciting and I would reccommend it. Kids should read this book because it's exciting, adventurous, and great characters. Kids who like bats would probably like this book.