Captain Underpants and the Invasion of the Incredibly Naughty Cafeteria Ladies From Outer Space
Written by Dav Pilkey
Illustrated by Dav Pilkey
Reviewed by nalu m (age 8)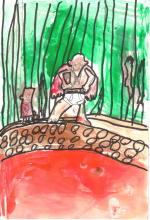 This book is about two boys named George and Harold. Their lunch ladies quit, so the principal hired evil lunch ladies in disguise. George and Harold had detention for the rest of the year. They had to make their own lunches. They had peanut butter and gummy worm sandwiches and tuna salad with chocolate chips and marshmellows. Then there is an invasion of Zombie Nerds. Then George snapped, and the waist band warrior came flying in. Crash! Through the window he goes. He beat up the Zombies and the lunch ladies in disguise. Finally, Harold made his famous root beer. It makes the evil ones turn back into kids again.
I liked this book because it is very super-funny. It should be the #1 book in America. I would give it 100 votes or an A+. It is sort of weird. It has flip-o-rama that is really really funny. I think it is appealing. The giant Dandelion of Doom is scary and weird looking. The aliens are too. They are great illustrations. The artist is great.
I recommend this book for 2nd to 5th graders because it is a classic book from Dav Pilkey. It comes in both English and Spanish. It is hilarious.