Sam Finds a Monster (Kids Can Read!)
Written by Mary Labatt
Illustrated by Marisol Sarrazin
Reviewed by megan s (age 7)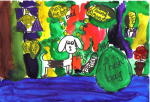 This book is about a puppy named Sam. He was watching T.V. There was a big green monster. Then a different show came on. He thought "Where did the big green monster go?" "It went here," thought Sam. Sam thought big green monsters hid under beds, tables, and behind sofas. But no big green monster was there. Sam thought big green monsters hide inside kitchens. Sam turned around and saw the closet and opened the door and saw THE BIG GREEN MONSTER! But no matter how hard she tried to make the monster move it wouldn't move. Sam thought, "I can make this monster move."
I like this book because it is a puppy book. I like puppies and all of them too. This book is like my puppy because my puppy always gets into the trashcan. I also like this book because my puppy and the puppy in the book look alike. Sometimes I think they are the same puppy. I also like this book because it makes me hungry because Sam gets into the trash and there are a lot pictures of doughnuts and cookies.
I recommend this book to boys and girls who like puppies because it is about a puppy. I think this book should get an award because the author makes the story come alive, the illustrations are great, and for those of you who like fiction stories this is the story for you. This book also teaches a lesson and is easy to read for beginners. Sam will become your best friend. So buy this book at the book store. People from three to ten will like this book. I have liked this book so far and I'm seven years old.