There's a Wocket in My Pocket!
Written by Dr. Seuss
Illustrated by Dr. Seuss
Reviewed by william g (age 8)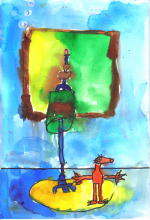 This story is about a kid who has a lot of weird animals at his house. He has a Zelf on his shelf. Then he has a Vug under his rug and a Zlock behind the clock. The boy has a Nureau in his bureau. Some of the weird animals are mean to him and some of the animals like him a lot and he likes them too. This book teaches about different letter sounds and rhymes.
I like this book because the book rhymes. I think this is an awesome book for Kindergarten through 2nd grade. I also like this book because his house has weird animals. Some of the weird animals are mean and some are not. This book reminds me of the Cat in the Hat because it is silly.
I recommend this book for beginners who like fiction books.