Amazing Mallika
Written by jami parkison
Illustrated by Itoko Maeno
Reviewed by kelsey d (age 7)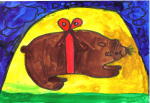 This book is about a tiger cub named Mallika. She is really hot tempered. One day her mom is teaching her and her brother to hunt. When you hunt it requires patience. Mallika doesn't have much patience. The story takes place in Ranthambhore National Park. In 1957 the park was declared a wildlife sanctuary. Throughout the book there are lessons to be learned about staying calm.
I liked this book because it is about animals and I like animals. Mallika also reminded me of my self because I lose my temper sometimes. Mallika learns to control her anger. She realizes when she is angry that she gets into trouble. This book is part of a series. All of them have a lesson to be learned. This story taught me to control my temper.
I recommend this book for Kindergarten through 2nd grade. I think anybody who likes tigers will like this book. There is a valuable lesson to be learned in this book.