The Kissing Hand
Written by Audrey Penn
Illustrated by Ruth E. Harper and Nancy M. Leak
Reviewed by sophia v (age 8)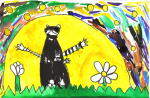 Have you ever heard a story with a secret? Well you should read this book. This story is about a raccoon named Chester. He does not want to go to school. So his mom tells Chester a secret. The secret is called the Kissing Hand. Chester doesn't know what it means. His mother tells Chester, "Give me your hand." The she kisses it. She tells Chester to think, "Mommy loves you, mommy loves you."
I think this book is extraordinary. It shows a relationship between a mom and a son. This book also reminds me of my first sleepover because I was homesick, just like Chester. The illustrations were also very life-like.
I recommend this book because it teaches you a lesson. It is appealing because it tells you a secret that some people do not know. This is a family book, so get this book and read it with the family to find out what the secret is.