Kick Pass and Run
Written by Leonard Kessler
Illustrated by Leonard Kessler
Reviewed by William S. (age 8) & Jeremy S. (age 8)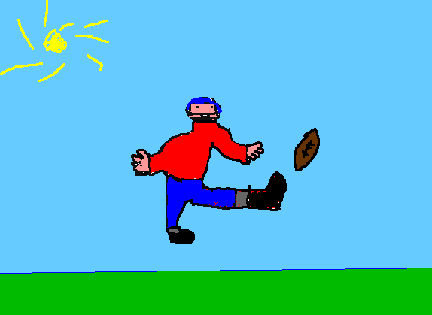 Rabbit, Frog, Dog, Cat, Turtle and Owl found a football. They thought it was an egg. A boy came to get his football. The animals went to watch the football game. The animals wanted to play football too. Read this book to see what happens next.
We think the illustrations could be more detailed and look more realistic. We think this book is really hilarious because the pictures are funny like when Duck tackled Rabbit. We like when the people tackle each other. We liked Rabbit, Dog and Duck because they are the funniest characters. This book reminds us of "Here Comes the Strike Out" because it's about sports and because it's also by Leonard Kessler. We like the book because we like animals and football.
We think you should read this book if you like funny stories and football. We think people who like sports and animals should read this book because the main characters are animals.