Tops & Bottoms
Written by Doug Johnson
Illustrated by Janet Stevens
Reviewed by cole b (age 8)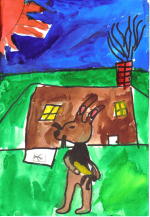 Have you ever wanted to read a book about a bear and some hares? This book is about a bear and some hares. One day the baby got so hungry that Mr. and Mrs. Hare had to cook up a plan. They wanted to ask Bear to be business partners to raise crops. He said yes. All the time the hares had to work and Bear slept. Every time the bear got tricked and only got the roots. All the time the Hares got food and the Bear wanted some too. He got nothing. All Bear wanted to do was sleep. His dad gave all his wealth to him.
I like this book because hares get everything and Bear gets nothing. My favorite part is when Bear gets to sleep instead of working. I thought the pictures look like it is in real life. I also liked this book because it teaches a lesson. It teaches you that you have to be smart and work hard to get what you want.
I recommend this book to all people that like picture books and that like animals.