Mrs. Piggle-Wiggle's Won't-Pick-Up-Toys Cure
Written by Betty MacDonald
Reviewed by emily k (age 7)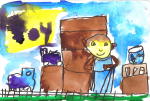 A boy named Hubert won't pick up his toys, so his mom calls Mrs. Piggle-Wiggle. Mrs. Piggle-Wiggle tells Hubert's mom not to pick up any of his toys for seven days. On the seventh day Hubert doesn't come out of his room. It was a mess! His mom called Mrs. Piggle-Wiggle again. Mrs. Piggle-Wiggle says that Hubert will have to drink from a hose and get food from the window. Then Mrs. Piggle-Wiggle walks in front of his house with all the other kids. They were going to the circus. Hubert wanted to go to so he cleans up his room really fast!
My opinion is that the book was good because it teaches you to clean up your room. It also has fabulous, colorful illustrations. It is funny too! In my favorite part Hubert gets trapped in his room and has to drink from the hose.
I recommend this book to people who need to clean up their room. It reminded me about when I didn't clean up my room.