The Field Day from the Black Lagoon (Black Lagoon Adventures #6)
Written by Mike Thaler
Illustrated by Jared Lee
Reviewed by craig k (age 7)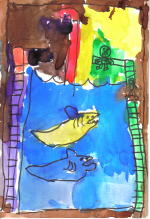 In the book, a boy's school is going to have a field day. The boy's name is Hubie. A field day is where you have a sports contest. He thinks he will die because he is not good at sports. He can't play kickball or dodgeball. On the way home from school his friend says they need muscles. On T.V they see a commercial for a muscle-making kit. They don't get muscles because the kit was just a useless rubber band. The next day is field day. The kids pick the teams. Hubie's team wins the basketball game and the sack race. They lose the three-legged race, but win the bubble-gum eating race. They win the contest and they didn't need muscles!
I like this book because it has some funny parts, like when the boy buys a fake muscle kit. Another funny part is when he thinks he will die. I also like this book because he learns that he can win if he tries. I also liked this book because it made me laugh.
I recommend this book to people who like funny stories. It is also part of a series. This book shows that you can win if you try.