The Cat in the Hat
Written by Dr. Seuss
Illustrated by Dr. Seuss
Reviewed by samantha f (age 8)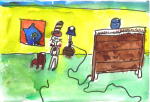 Have you ever heard of the Cat in the Hat? Well in this book you will. This book is about a cat named The Cat in the Hat. He visits a brother and sister when their mother is not home. He makes a huge mess in the house. Then the cat brings a big red box with two little creatures in it called Thing One and Thing Two.. They make an even bigger mess. They fly kites and break every thing in the house. The brother finally catches Thing One and Thing Two. But their mother will be home soon. How will they clean up the mess? What will the children do? Read the book to find out.
I like the Cat in the Hat because the illustrations are funny. I also like the way the whole book rhymes. It has suspense too! My favorite part of the book is when the Cat in the Hat lets Thing One and Thing Two out of the box because they make such a mess. I think you will like it too!
I recommend this book to boys and girls who like funny pictures and rhyming words. I think this book should get an award for the illustrations. If you like Dr. Seuss books, you should read the Cat in the Hat.