The Basket Counts
Written by Matt Christopher
Reviewed by Yahav K (age 10)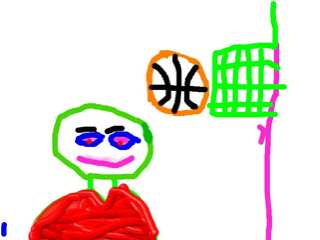 "Yes, that was a terrific basket by Mel". If you want to hear more about basketball and a team read the book The Basket Counts by Matt Christopher. This is realistic fiction. I think Mel is an amazing player because he usually scores and passes. He knows how to dribble, how to shoot, and most importantly he can score points in the game for the team. This book takes place on a basketball court. The problem is that Mel is black and nobody on the team passes to him. Mel is a boy who loves to play basketball. He wanted his teammates to pass him the ball. But they didn't. So Mel needed to change that by showing them he was a good basketball player.
A connection I have with him is we both love the game of basketball. Also we are both good at basketball because we practice a lot. I think the lesson is it doesn't matter what color you are you can do anything. Blacks can do what whites can and whites can do what blacks can do. This author uses a lot of similes like "Darryl intercepted a pass from a Quint and dribbled the ball as hard as he could down the length of the court". He also uses a lot expression in his writing because it helps him discuss how Mel feels. I thought there were a lot of good pictures in the book because the drawings are amazing.
I recommend this book for people who enjoy basketball. Also I recommend it for people who like realistic fiction. The reason why I would recommend this book for people who love basketball and people who like realistic fiction is because there's really a lot of basketball in it, and it is a realistic fiction book. So you should read The Basket Counts. "Mel scores and wins the championship".