How to Talk to Your Dog
Written by George Jean Craighhead
Illustrated by Sue Truesdell
Reviewed by Jennifer R. (age 8) & Taylor J. (age 8)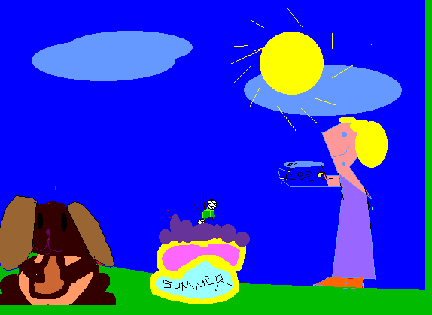 This book is very unusual! It is about... how to talk to your dog. Did you know that dogs give signs to you when you didn't even know it? This is one thing your dog might do - a wrinkled brow and ears held out to the sides says he's confused. That was one of the head signs. Here is one example of a tail sign - your dog is happy and confident when his tail is up. Dogs can tell you wonderful things with their noses (that's a fact for you from the book).
We like how Sue Truesdell drew the pictures so that children can see some of the signs and how the dog would act when a person would make the signs. We like how the signs are labeled. We learned that there are many different ways to talk to your dog and there are many ways a dog can talk to you.
We recommend this book to kids and adults, even if you don't like dogs because you might become interested and want one too! This book is extraordinary. We hope you like reading it!
Each subtitle has a different subject each time. You and your dog will talk together, help each other and have happy days til end... Good dog talk makes success!!!