Mary Poppins
Written by Gare Tompson
Reviewed by Brandon C. (age 10)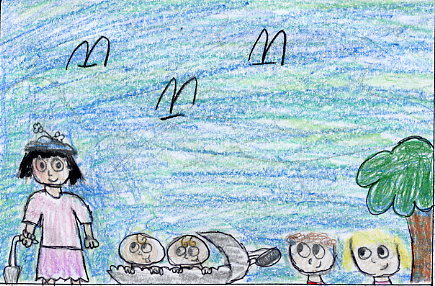 This book is about four little children named Jane, Michael, John and Barbara. Jane is the oldest and Michael is the middle child. John and Barbara are the babies. They are really naughty children and keep running their nannies out the door! Then came Mary Poppins as their new nanny. Mary Poppins takes the kids on wonderful, awkward adventures, and tells them weird stories. For example; when Jane had a sore tooth, Mary Poppins tells a story about a cow that dances all day and all night because she had a star on her horn. Read the book to find out more weird and awkward adventures that they go on!!
I like this book because once you start reading you can't put it down! My favorite part in the book is when they go see Mary Poppins' uncle because every time he laughs he floats up in the air!
Mary Poppins reminds me of magicians because she always uses magic in the book. This book is unique from others because I've never read a book with so many awkward adventures and weird stories. This book reminds me of when I watched the movie "Nanny Mcphee". It is almost like the book "Mary Poppins". Nanny Mcphee is not so different from Mary Poppins. They both do magic and have to protect crazy kids from getting in trouble. One of the crazy adventures Mary Poppins went on was when she went to the Amazon Rainforest and meets a macaw. The macaw all of a sudden started talking to her and said, "Welcome, you're just the person we need, Mary Poppins. My wife's off gadding, and I'm left to sit on the eggs." Then Mary Poppins gave him advice.
I recommend this book to kids ages 9-12. Also to people who like adventures and funny books. I hope you find this book really interesting!