The Door to Time
Written by Ulysses Moore
Reviewed by Julia G. (age 10)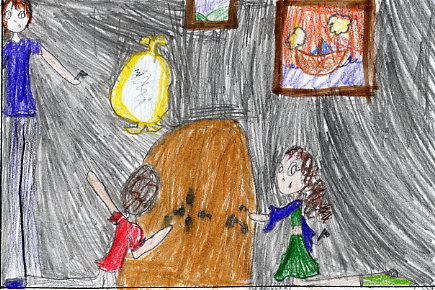 "The Door to Time" is about three kids who go on a great adventure. Julia, Jason and their friend Rick find all sorts of stuff: a man, four keys, a door and a mystery to uncover. Julia and Jason moved into a mysterious house where an old and weird man lived on a cliff. They find a door and find tons of neat stuff! Julia said there wasn't anything to do! I like this book because it has a lot of adventure and mystery.
Why should a statue never move? Why does someone spy on three kids? Why does a lady want the house so bad? My favorite part is when they all go to the beach and collect a lot of cool things. This book reminds me of when I went to Montana and we went to a lake and found a ring. I liked the pictures in this book such as when they drew King Tut in his coffin. My favorite character is Julia because she is funny and she is named Julia! One reason I like this book is because it hooks you to it and because of all the pictures and mystery. Julia reminds me of me because she doesn't like living in the country which is where I live now. The three kids find a lot to unlock and a mystery, too.
I recommend this book for grades 3-5, and for people who like mysteries, also those who like to stay up until 3:48 in the morning reading a good book!