Heidi
Written by Robert Newell
Reviewed by Amanda C. (age 10)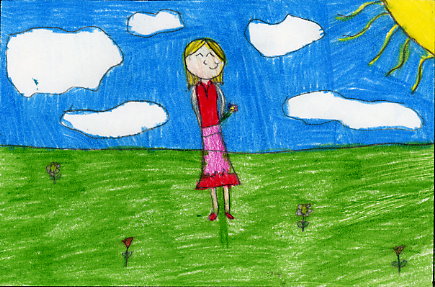 Heidi is a book about a girl whose mother and father die. Her Aunt takes care of her until she is five, and then takes Heidi to her grandfather to live. No one likes Heidi's Grandfather. Since he lives on top of the lovely Swiss Alps, the people that live in the town below the Alps call him Uncle Alp. Grandfather does become nice to Heidi, though. After three years of happily living with grandfather, Heidi's aunt comes back to take her to a different family in Frankfurt to be a playmate to a rich, kind, handicapped girl. Heidi cries every night and wants to go home to grandfather. Will Heidi ever get home? Read the book to find out!
Heidi is a great book because you can actually imagine the Alps by the way the author is describing it. I also like it because Heidi is interesting and adventurous. My favorite part of the story was when Heidi went with the goat boy to herd the goats. I like that part because Heidi calms down the goats and runs along with them, which made me want to live on top of the Alps and run with goats. Heidi reminds me of myself because she was living in the Swiss Alps and then had to be jerked along to Frankfurt when she didn't want to. I am a military child, so I can relate to that very well. I also live next to the Alps in Germany.
I recommend this book to 4th to 8th graders because there are some confusing words and that would be confusing to a young reader. It's a great book for people who like adventure (you'll be seeing a lot of that on the mountains), along with sadness, happiness, and goats.