Ramona and Her Father
Written by Beverly Cleary
Illustrated by Alan Tiegreen
Reviewed by Amanda E. (age 9)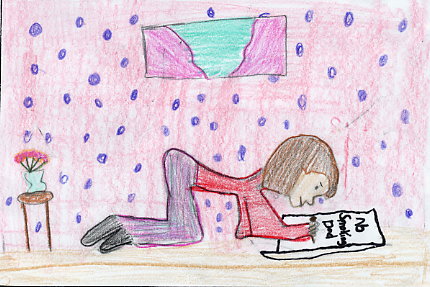 In "Ramona and Her Father", Ramona and her sister Beezus try to stop their father from smoking. They try to stop their father from smoking because Ramona heard that if you smoke it makes your lungs black. Ramona and Beezus put up signs all around the house. The signs say "No Smoking." They also put it in their father's briefcase and around his toothbrush. Read this book to find out if their father stops smoking.
Ramona reminds me of my sister, Alexa because my sister likes to read like Ramona. My favorite character is Ramona because she is pretty and funny. She has dark brown eyes and short brown hair. I like the illustrations because they really help describe the characters, even though they don't have much color. This book is part of a series by Beverly Cleary. Beverly Cleary is one of my favorite authors because I like the way she describes characters and things in her stories.
I recommend this book for 2-4thgrade. If you like adventure you will like this book. I think this book is adventurous because Ramona and Beezus try to stop their father from smoking. If you like books by Beverly Clearly, you would like this books.