The Great Squirrel Uprising
Written by Lois Ehlert
Reviewed by Maria B. (age 9)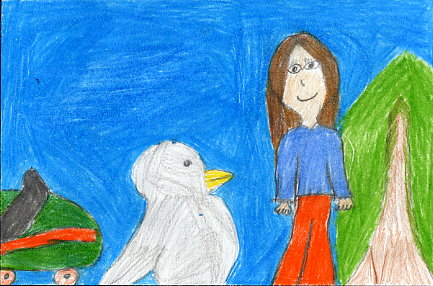 Squirrels taking over a park! How strange is that! Well, this book, "The Great Squirrel Uprising" is a book about that. The squirrels that live inside Central Park, New York, have an uprising against all the litter that humans leave inside their home and try to block off the whole park. Will they?
There is a problem on the first day when the head squirrel, Scruff, who is in charge of the whole uprising runs into trouble when the police chase after him. A skateboard girl named Sally lends him her skateboard so he can make a getaway and soon she is a big part of the uprising. But how does she communicate with the animals unless they speak and understand English? They can understand but not speak so they use this cool idea. Two friends of Scruff's, Franklin the Pigeon and Mort the Mouse help. Mort rips out words from the newspaper and Franklin delivers them to Sally.
But then another problem occurs on the third day of the uprising when the animals cannot find enough recruits to cover the whole park. Will they find more recruits? If so will they take over the park forever? You'll just have to read the book to find out.
I really enjoyed this book because I think it is cool how the squirrels try to take over the park. I also like it because I'm a lot like Sally and love animals and would be thrilled to have the chance to speak to them. I think Scruff is an interesting animal because his attitude toward Sally doesn't change even though she helps him so much. My favorite part is when Sally saves Scruff from being caught by the police, she lends him her skateboard so he can travel faster than the policeman.
I recommend this book to 2nd-4th graders and people who like animals because they would find a connection between themselves and Sally. I also recommend this book to everyone so they can see how littering and pollution affect living things like squirrels and their home.