Dragon Rider
Written by Cornelia funk
Illustrated by Cornelia Funke
Reviewed by Alex M. (age 10)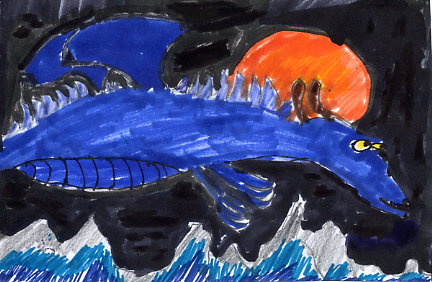 "Dragon Rider" is about five hundred dragons living in a valley that is going to be flooded by humans. Then a dragon named Firedrake wants to go to a place called "The Rim of Heaven" with a brownie which is a talking cat named Sorrel. They land in New York City where they meet a boy named Ben who becomes the Dragon Rider. They will set off to travel the world, but will they make it to the "Rim of Heaven"? Oh, yes, I forgot to tell you about the dragon killer Nettlebrand, aka, "The Golden One". Will Nettlebrand catch them or not? Read the book to find out if Nettlebrand catches them, or if they reach The Rim of Heaven.
I really liked this book because it is fascinating and when I started to read it I did not want to stop. This book is interesting to me because I like to read about dragons. Ben reminds me of myself because I like to explore and so does he. My favorite part in Dragon Rider is when two dragons destroy Nettlebrand with brownie spit and dragon fire. My favorite character in the book is Sorrel because she calls everyone idiots and dumb heads which makes her funny. When Ben travels the world he is a lot like me because I live overseas and it has been like that for 6 years.
I recommend this book to everyone in the world from five and up because it has a lot of adventure and fantasy. If you like this book then read "Inkheart", "Inkspell", and "Thief Lord" which are also by Cornelia Funke.