Because of Winn-Dixie
Written by Kate DiCamillo
Reviewed by Oliva T. (age 10)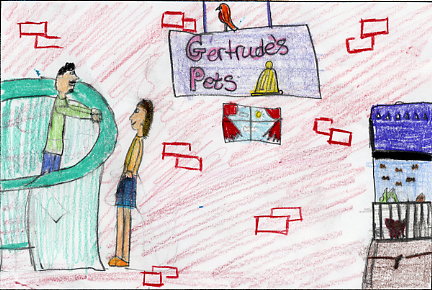 This book is about a dog named Winn-Dixie and how a girl named Indiana Opal Buloni found her. Indiana's dad calls her Opal. One day, when Opal went to the grocery store, she saw that aisle nine was covered in tomatoes and other fruits. The shelves were empty. Soon enough she found Winn-Dixie! Opal loved her, but her dad disagreed. There was a problem.
This book is called "Because of Winn-Dixie" because Opal finds a bunch of new friends and it is all "because of Winn-Dixie."
I loved this book. It is one of the best books I've ever read because it is fun and I love dogs. I also think that Kate Di Camillo is an awesome author. I think she is awesome because she describes well so I can understand things.
I recommend this book to people who love dogs and care about animals because this book is about a dog.
This book reminds me of when I found my cat in my backyard. I begged my dad to keep her. Soon enough, he said yes and we named her Taffy.
Opal reminds me of myself because if I found a dog then I would beg my dad to keep it because I love dogs.
I enjoyed this book, I hope you enjoy it, too!