There's a Boy in the Girls' Bathroom
Written by Louis Sachar
Reviewed by Logan L. (age 9)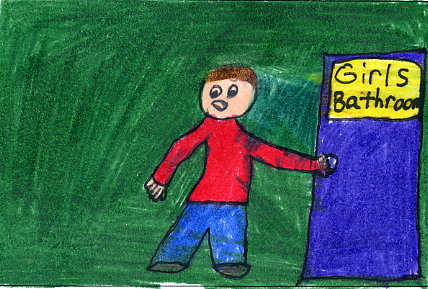 This is a book about a boy named Bradley Chalkers. He?s the oldest kid in the fifth grade. He tells enormous lies. He picks fights with girls, and the teachers say he has ?Serious behavior problems?. No one likes him-except Carla the new school counselor. She thinks Bradley is sensitive and generous and even enjoys his crazy stories. Carla knows he can change if only he wasn?t afraid to try. If you want to know why the title of this book is called There?s a boy in the girls bathroom, read the book to find out!
I really love this book. It is probably one of my most favorite books. It is very funny. This isn?t really like a book I?ve read before because it is sad, happy, boring, interesting, great, and mean all at the same time. I also love this book because it is full of feelings and ends up in happiness.
I recommend this book to 3rd grade and up because there are challenging words and might be to long for younger children to read if you like books with feelings this is a book for you!