The Thief Lord
Written by Cornelia Funke
Reviewed by Zachary P. (age 9)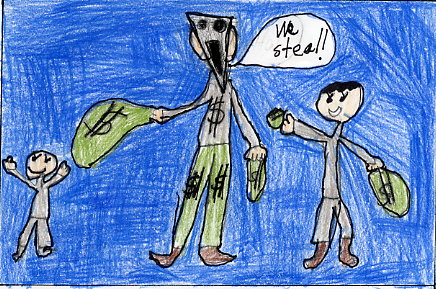 This story is about two boys named Prosper and Bo. They are orphaned children who lived with their aunt and uncle and decide to run away in Venice. The kids don't know what path they're going down and accidentally join a gang led by a kid called Scipio, also known as the Thief Lord. A detective named Victor is hired by their aunt and uncle to find them. Will he find them and return them to their aunt and uncle? Read the book to find out what happens to Prosper and Bo when they dare to live with the Thief Lord!
I think it is a great book with some funny characters. There's a girl called Hornet who always makes me laugh a little. It kind of reminds me of my friend James who used to run away. I think it is a very creative story that has a whole lot of imagination. It is the best book I ever read. It's so good I could read it instead of eat!
I recommend this book for 3rd grade and up. It has some challenging words and some parts that are hard to understand. It has 300+ pages. I love the book and absolutely think you should read it. It's a great book from head to toe and will never go bad like food!