Matilda
Written by Roald Dahl
Reviewed by Anna H. (age 9)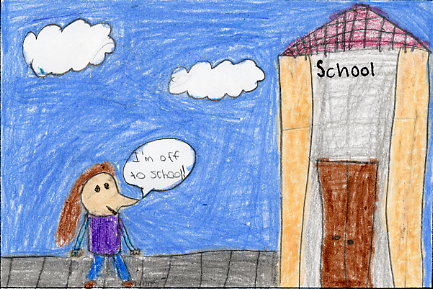 This book is about a genius girl, a mean headmistress, idiot parents and extraordinary powers. Matilda is a genius girl with idiot parents. When Matilda goes to school she meets the meanest, rudest, ugliest headmistress in the world. Her name is Miss Trunchbull. Later on in school she gets special powers. She also meets a friend along the way. Will Matilda be able to get rid of the Trunchbull for good? Read the book and find out.
This was one of the best books I've ever read. I like this book because it was funny. One of the funniest parts was when Bruce had to eat an entire cake and the Trunchbull smashed the cake plate on his head. My favorite part was when the Trunchbull threw a kid out a window because he was eating in class. My favorite character is Matilda because she is smart and she is sneaky. She is always playing tricks on her parents.
I recommend this book to third grade and up because it has some hard words and it is long. If you like books where kids pull pranks on their parents you should read this book.