Dragon Rider
Written by Cornelia funk
Illustrated by Cornelia Funke
Reviewed by Luke F. (age 9)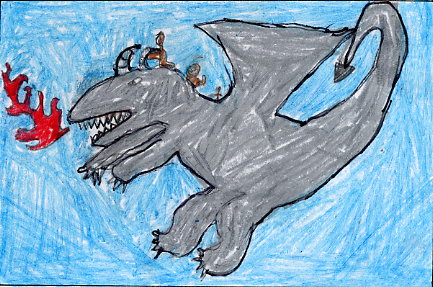 This book is about a group of dragons living in caves in Europe. They find out that humans are planning to flood their living area. The dragons get together and decide that one of them should search for a new place to live. The dragon, Firedrake volunteers to go and his companion (a brownie named Sorrell) decides to go with him. They are searching for a place called "The Rim of Heaven" which is supposed to be a completely safe place for dragons somewhere in the Himalayas. Along the way they meet a human boy named Ben. He is homeless and decides to go along as well. There is an evil dragon named Nettlebrand that is also in search of the Rim of Heaven. He wants to be able to hunt the other dragons. Firedrake, Sorrell and Ben meet many interesting creatures along the way. They also get into some scary situations. Will they find the Rim of Heaven? Read the book to find out.
I think this book is great because it is full of adventure. My favorite part is when Nettlebrand melts and the toad pops out. My favorite character is Firedrake because he is a nice dragon and he tries to stay away from trouble.
I recommend this book to kids that like action because there is a lot of it in this book. There are also a lot of interesting characters that are from fantasy. Dragon Rider is one of the best books ever!