Boston Jane: An Adventure
Written by Jennifer Holm
Reviewed by James A. (age 8)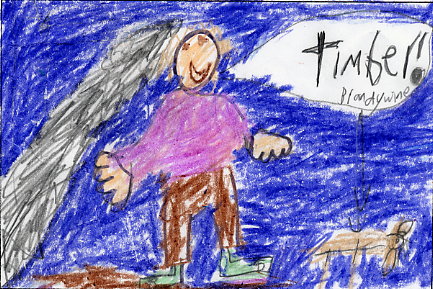 This book is about a young girl named Jane Peck. She is the daughter of a surgeon and sometimes she helps him with his work. Jane is a very rough girl who can be very poor-mannered. She is not very lady-like which is important in her city. All the "proper" girls tease her. Her father hires a new assistant named William Baldt. He likes Jane and encourages her to become a proper young lady. Jane decides to attend Ms. Hepplewhite's Young ladies' Academy. William moves out west and sends for Jane to come and marry him. She travels by boat with her friend Mary. It is a difficult journey and awful things happen along the way. Surprises await Jane when she arrives in Washington Territory. Read the book to find out what happens to Jane.
I really liked this book and I think fans of adventure and historical fiction will too. It has all sorts of adventure and historical information wrapped through its pages. Jane changes a lot during the book. I think Jane is just like me because we have the same temper. My favorite part was when Jane sees Mary's ghost.
I recommend this book to people age 7+. It might scare smaller kids and has some (but not many) big words.