When Tiny Was Tiny
Written by Cari Meister
Illustrated by Rich Davis
Reviewed by Anthony T. (age 6) & Jodi M. (age 7)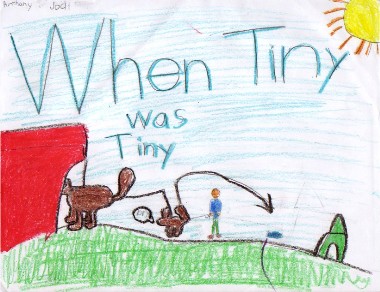 We picked this book because we know Tiny already and we like him.
The story is about a dog named Tiny. In the beginning of the story, Tiny was tiny. Then, he became bigger and bigger and bigger. He was so big that he was so large! When he is large he changes, but he still likes to do the same things. That is really funny to see.
When Tiny Was Tiny is a cool book to read. The story is good when Tiny grows. He broke the boy's jacket pocket in the front because he was growing a lot. He was too big! The pictures are good because they are funny. The big dog looks funny doing things. The dog was our favorite character. We liked the dog because he grows so much and is so big now. That is not true for real. We never saw a dog as big as that!
We recommend this book to little kids because we feel they will like it.