Tiny Goes to the Library
Written by Cari Meister
Illustrated by Rich Davis
Reviewed by Sammi N. (age 7) & Erica L. (age 7)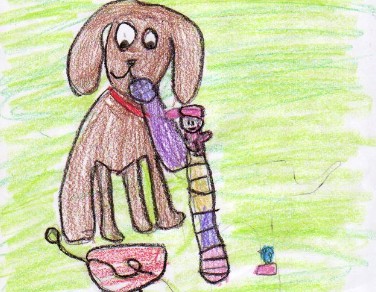 We picked this book because we knew it was funny.
The story is about when a boy and a dog go to the library and look outside of the library. The boy goes in the library and he picks a book. But Tiny the dog cannot go in the library because the sign says No Dogs Allowed in the Library. After the boy gets his book, Tiny helps the boy carry the library books home.
It is a great book because the dog could help the little boy carry the library books. The boy got so many library books. We like it because Tiny is very good and nice to help. Our favorite character was Tiny because he helped the boy carry the library books. We think the pictures are pretty and funny. We like the way the boy and the dog dress.
We recommend this book to little kids because they like dogs.