Tyrone the Double Dirty Rotten Cheater
Written by Hans Willhelm
Illustrated by Hans Wilhelm
Reviewed by Preston F. (age 7) & Tammi Y. (age 7)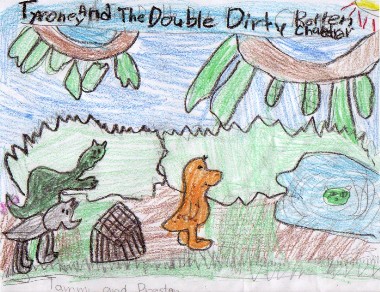 We picked this book because we like dinosaurs.
The story is about Boland going to the Swamp Island. Tyrone was going, too. Tyrone was his worst enemy because Tyrone was a cheater in the games they played. Boland goes to Swamp Island because he wants to go to the Swamp Camp and teach Boland a lesson. Read to find out what happens in the end!
It is a great book. It has good pictures. We like the pictures because they look like cartoons. It is a funny book. It is funny when the bees buzz Tyrone. The bees sting him, and he runs in the lake. The story teaches you not to cheat. This is important because you learn it is easy to be friends with people and do your best if you don't cheat.
We recommend this book to kids who like dinosaurs because they could read it and they might like it.