20,000 Baseball Cards Under the Sea
Written by John Buller
Illustrated by Susan Schade
Reviewed by Sonya N. (age 6) & Matthew L. (age 6)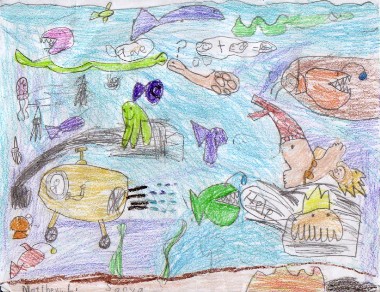 We picked this book because the cover looked good.
In the story Roger and Kenneth collect things. They go under the sea to look at Kenneth's secret cavern. He has a secret cavern where he kept his cool stuff. The cavern was really cool. Roger and Kenneth saw a mermaid and a fish there. There was a lot of things to see. Read the book to find out what else is in the cavern and what they do.
We really liked this book because it has good pictures. The pictures are great and colorful. It was exciting because Roger found the chest and looked inside it. He saw 200 baseball cards. We liked this because we like baseball, and we watch baseball at home. Roger liked baseball too. The story made us think about how to collect stuff. We think it is fun to collect stuff.
We recommend this book to first graders because it is cool and fun. People who like baseball will like it because it has baseball cards.