Strega Nona
Written by Tomie dePaola
Illustrated by Tomie dePaola
Reviewed by Jason T. (age 7) & S.T. (age 6)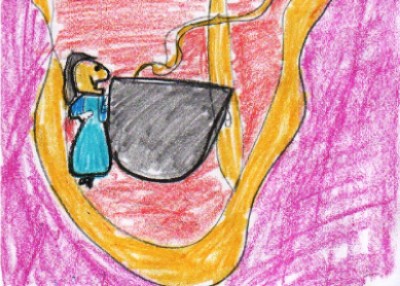 We picked this book because we knew it was funny already.
The book is about Strega Nona. She lived in a little house and cast spells. Her friend did a spell and it worked but he almost covered the whole town with yummy pasta! Strega Nona comes back home and the town is almost covered with pasta, so she has work to do. Read to find out what happens next!
Strega Nona is a funny book because her friend Anthony had to eat all the pasta. We liked when the pasta covered the town. We also think that Strega Nona is the best. She is great because she has really good spells. The book Strega Nona made us think about pasta. That is a good thing because it made us so hungry. The book has great and funny pages with good drawings. The drawings make us feel like we could eat the pasta all night.
We recommend this book to big kids because it has a lot of words. Big kids usually like to read lots of words.