Guys Write For Guys Read
Written by Terry Davis
Illustrated by Matt Groening
Reviewed by Nadir I (age 11)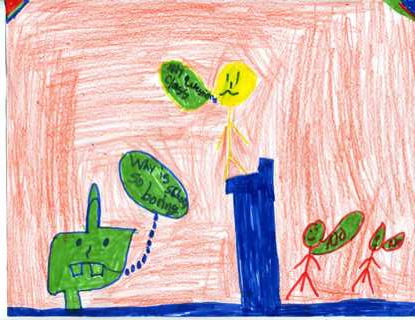 This book is written by a whole bunch of different authors and every author writes something funny that happened in their childhood or something that they used to do. For example some people drew comics like Matt Groening drew a comic similar to the Simpson's. Also this book is meant for mostly boys to read. Do you want to find out what your favorite author's childhood was like? Read the book to see what their childhoods were like.
I thought this was a great book. I thought this because all the authors were boys and it was cool how all their childhoods were different and you could compare your childhood to theirs.
My favorite part was where Matt Groening drew a comic about how he would always get bored in school so he would start to think about very stupid but funny questions.
This book is special because it is one of the only books that is directed for boys to read and they set great examples of what boys do these days and they would do the same thing back then too.
When I read this book it made me wonder about how different my childhood is compared to my favorite authors. For example, I don't get bored in school like Matt Groening and I don't ask stupid questions like him either.
I would recommend this book to people who like funny autobiographies and comics because this book is filled with them.