George's Marvelous Medicine
Written by Roald Dahl
Reviewed by Jackson H (age 11)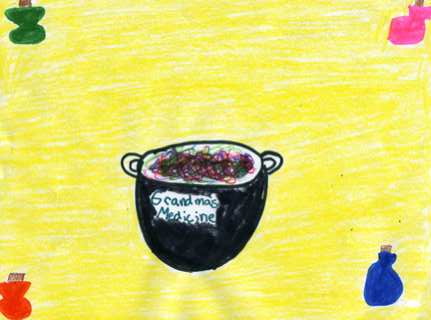 This is a story about a boy named George, who has a very evil grandma. She has been bossing him around, telling him to get her medicine, and he has been granting her every wish. Then, when she asks him to get her medicine, he makes her his own kind of medicine. He goes around the house putting everything he can find in her medicine. He also gives the medicine to the farm animals. Will George be a hero? Will the grandma live? Read on to find out.
This book is like another book I read called The Twits. The two books are alike because in The Twits, the monkeys play tricks on the humans. In this book, George is playing tricks on his grandma.
My favorite part is when George is putting all the house items in the grandma's medicine. It made me laugh at some of the things he put in there.
This book reminded me of the time I had to take care of my grandma and give her medicine.
I think this book was very funny. I liked it a lot, because whenever the grandma asked George to do something that he didn't want to do, he would make a weird remark back to her.
I would definitely recommend this book to kids who like very funny books. If you are a 4th or 5th grader who likes to laugh at books, this one is for you!