Lunch Money
Written by Andrew Clements
Illustrated by Brian Selznic
Reviewed by Hayley C (age 11)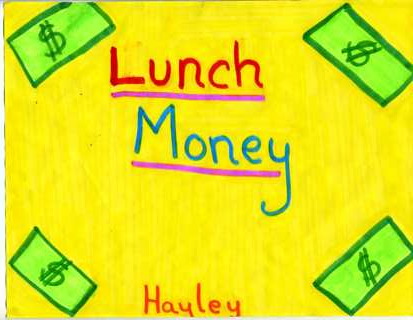 Lunch Money is about a young boy named Greg. Greg is money crazy, all his life he has been trying to make money. By the time he is in 6th grade he has made and saved thousands of dollars. But there has always been one problem. There is a girl across the street named Maura, and she is always copying what Greg does. One day when Greg is at school he notices that everywhere he looks there are quarters in the hands of the students. So he decides that he can make his fortune at school. Maura causes a problem with this scheme. Read and find out why Greg eventually has to speak to Mr. Z, the principal, and then the City Council.
My favorite part of the book was when Greg, Maura, and Mr. Z, all worked together to be allowed to sell the comic books. I liked this part, because it was very interesting and I was eager to see what would happen next.
I have only read three other books by this author and they all were very similar to Lunch Money. The books I have read are: Frindle, A Week In The Woods, and The School Story. One thing I noticed is that the cover of every book shows the main character holding the main object. Also, they are all focused on kids around the age of 10-12.
As I read this book, I felt that I should use these schemes to make money like Greg. Also, I thought that I would not like this book as much as other books, but my opinion changed as soon as I finished the first chapter. Then I knew this would be a great book and I was right. This story reminds me of when I decided that I wanted to be a trillionaire. So I started depositing hundreds and hundreds of dollars into my bank account. I would recommend this book to anyone who is searching for ways to make money. Also it is not just for kids, because my mom and I read this book together and she enjoyed it just as much as I did!