Shiloh
Written by Phyllis Reynolds Naylor
Reviewed by Mary Elliott P. (age 9)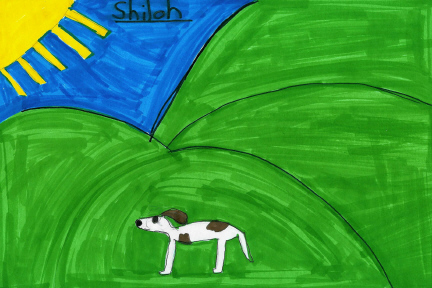 Marty is an eleven year old boy. Marty loves to go up behind his house and play on the hills. One day, Marty was out on the hill playing when he found a beagle. He could tell the dog had been mistreated. Marty started to spend time with the dog and played with him and fed him. He wanted to keep him. But when Marty found out that the dog belonged to a very rude man named Judd Travers, he didn't know how to save the dog he named Shiloh.
My favorite character is Marty because he is a very nice person. The minute he could tell that Shiloh was mistreated, he knew he had to help him. It seems like Marty would do anything to save Shiloh.
My favorite part of the book is when Marty found Shiloh, because Shiloh keeps on following Marty. Marty doesn't mind that the dog is following him. But when they get close to the house, Marty is worried that Shiloh is going to follow him all the way home.
I like this book because it doesn't only have one problem to think about. There are a lot of different problems to think about. It's a book that if you start it, you'll have to finish it.
I recommend this book for kids ages eight to ten. If you like books that are sad, but you just can't stop reading, then this book is for you.