The Class Trip From the Black Lagoon
Written by Mike Thaler
Illustrated by Jared Lee
Reviewed by LeKeisha R. (age 8)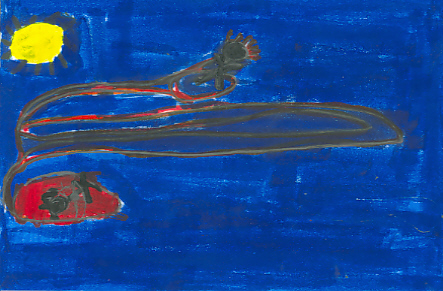 This story is about a little boy named Hubie. He is going on a class trip and he is wondering where he is going to go. He wonders if they are going to go on a boat like the Titanic, on an airplane, a hike, and even end up at the bottom of the world. He think the class may end up in China and will have Chinese food for lunch. He's never been on a class trip so he doesn't know what to expect. He is thinking about it so much that he has crazy dreams about it. He wakes up one morning for his trip and his class goes to very crazy places. They go to space, they jump out of an airplane with parachutes on, and they go to the jungle and have many adventures there. What kind of class trip is this?
This book is funny because Hubie is a really strange character. He has lots of thoughts about what might happen on his trip and they are really funny ideas about what they might do. Then, you don't know if his class trip is really happening or if it is just a dream. I like how the author writes about that. The pictures are hilarious. Hubie brushes his teeth with brown shoe polish and the picture is so gross! And then he puts his head through the arm of his shirt and thinks his shirt has shrunk! This is another picture that is really funny! I always feel really excited for class trips and think about them alot before we go, just like Hubie!
This book would be great for anyone in school because we always have field trips and I think sometimes students feel scared about what to expect on a field trip. Recently, when my class went to Mesa Verde, I wondered about what was going to happen on our trip and also had some crazy thoughts about it. Read this book before your next field trip and see if you have some of the same feelings as Hubie.