Grasshopper Pie
Written by Rebecca Talley
Illustrated by Angela Talley
Reviewed by Madolyn T. (age 8)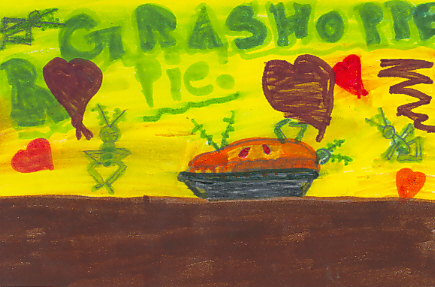 Madolyn and Logan wanted to cook but mommy would not let them. Madolyn and Logan decided they would cook on their own. They asked mommy what she wanted to eat. She told them that she wanted a watermelon burrito. Madolyn and Logan "made" it and mommy ate it. The next request from mommy was some sunflower soup. Madolyn and Logan "made" it and mommy ate it. Then mommy requested some grasshopper pie for dessert. That request made Madolyn and Logan giggle. What do Madolyn and Logan have planned for when they "make" grasshopper pie? Read the book to find out!
I like this book because it is a funny way to learn why kids shouldn't cook without some supervision. The author's style is detailed because this book is based on a true story. One of the characters that I liked was the daddy because of how much he laughed at the end. I liked how funny he thought the end events were because I thought they were very funny too.
I would recommend this book for kids from early grades to my grade because it is an easy book to read and it's fun to read too. I also think that anyone who has kids or who likes to "cook" would find this book enjoyable as well. It's great for kids to read on their own or to share with an adult they love!