The Class Election From the Black Lagoon
Written by Mike Thaler
Reviewed by NT (age 8)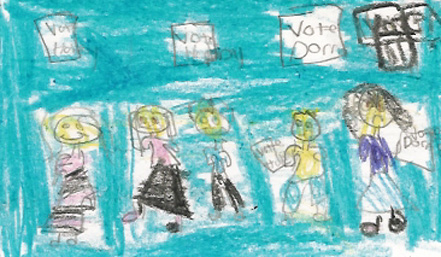 The Class Election from the Black Lagoon is a great book .There's a class election in the Black Lagoon .There is only one person running in the class election. Her name is Doris. Hubby wants to run, too, but he is afraid he will lose against a girl .Hubby's friends tell him to run, so he does. Doris tries to get more votes by promising the kids no homework, free ice cream, and extra recess. Hubby keeps having nightmares about whether he will win or lose. Things keep on getting worse. Will Doris or Hubby win the election?
This story is funny and exciting. My favorite part was when the election started. People started to give their votes to Doris, and Hubby didn't get any. Hubby and Doris keep on fighting, and Hubby kept getting worried about what would happen if he lost to a girl. He thought people would laugh at him or make fun of him .This caused more nightmares for Hubby. Hubby's nightmare was of Doris sitting on top of ice cream laughing. I thought that was pretty silly. It was funny to me every time Doris laughed at Hubby. It was exciting each time Hubby got more votes.
Hubby is an interesting character. Hubby is funny and weird. He is a weird character because he makes the white house green and shakes babies' hands. Hubby is a funny character because he makes me laugh every time he says he's weird and he's going to lose the election. I enjoy reading about characters like Hubby.
This book really fascinated me. It left me at the edge of my seat! There were many questions I wanted to a find out like who would win the election? Or what's going to happen next? If Hubby stopped being scared, what would he act like? I had a terrific time finding out the answers to my questions as I read the book.
I recommend this book to people who would like to read about class elections. You many chose this book if you like to read and like the Black Lagoon Series. If you want to know who won the election, read this book.!