The Magic School Bus Gets Baked in a Cake
Written by Joanna Cole
Reviewed by Erik G. (age 8)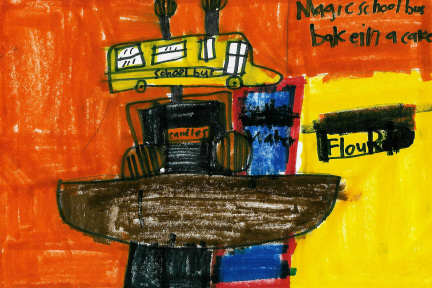 Mrs. Frizzle's class was getting ready for a surprise party for Mrs. Frizzle. The class didn't have a cake. The class went to a bakery and made a cake. Some of the class was doing chemistry so when Mrs. Frizzle got back she wouldn't see the cake. Some of the class got into the bus. Next, the kids who were making the cake dumped chocolate in the cake and then the kids put flour in the cake. The bus stirred the cake. After they went in the cake, the baker baked them in the oven. As they were baked, they got really hot in the bus. Mrs. Frizzle came in and got the class out. Then they left the bakery and went back to school. The baker sent the cake to the school and the class had Mrs. Frizzle's birthday.
I like when the bus was stirring the cake because I liked watching the chocolate swirl on the bus because it made me hungry.
The illustrations show how the bus flew into the cake with good detail. When the class ate the cake, they found a piece of cake with a hole that looked like the bus.
I felt I couldn't get up from reading, no matter what. I just couldn't get up. The book was that good.
I recommend this book to kids in kindergarten to second grade because it is fun to read it and the book made me hungry. You should have a great time reading this book.