The Class from the Black Lagoon
Written by Mike Thaler
Illustrated by Jared Lee
Reviewed by Cade C. (age 9)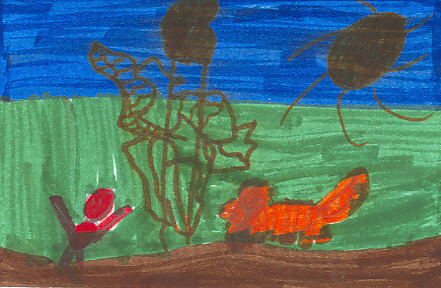 The Class Trip from the Black Lagoon is a great book. It is about a boy whose class is going on a field trip, and he's never been on one, so he's nervous. He thinks about all the places they might go, and he scares himself. He even dreams that they will go to the rainforest, and a lion would eat him. His dream really scares him, and he's not sure he wants to go at all. If you want to find out where he really goes, read this book to find out.
I like this book because the kid who is dreaming thinks they are going to different places. It kind of reminds me of me when I get excited about going on field trips. When we went to Mesa Verde, I knew I would have to climb a 32-foot ladder, and that made me really worried. I like the pictures in this book because they are really funny. The picture of the lion in the jungle getting ready to eat the kids cracked me up. My favorite character in the story is the boy who tells the story because he seems like someone who is funny. I would probably be friends with him.
I would recommend this book to third and fourth graders because it's not very hard, but it's not too easy either. I think kids really like to read about school stuff.