Miss Alaineus
Written by Debra Frasier
Illustrated by Debra Frasier
Reviewed by Gary E. (age 7), Victoria J. (age 7), Jocelyne W. (age 8) & Helen D. (age 8)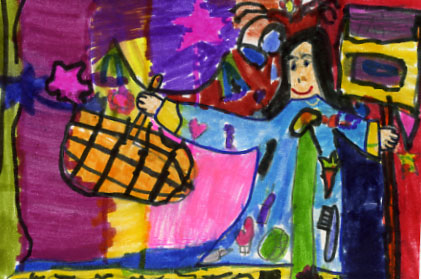 Sage is smart, pretty, kind, and sometimes worried. At school, she sits next to Forest. He?s always sneezing and coughing. We would not feel very well if we had to sit next to Forest. Forest makes Sage sick on Vocabulary Day, so she gets her words over the telephone from her best friend, Starr. ?The last one?s miscellaneous!? Starr yells in a hurry. Sage has heard the word before, but she doesn?t know what it means and she doesn?t look it up. Instead, she spells it ?Miss Alaineus? and thinks she knows who this is. Sage gets incredibly embarrassed and hates it. She wishes she hadn?t made that mistake. Sage doesn't like being wrong, like Helen and Victoria.
We like Sage in the Vocabulary Parade as Miss Alaineus because she is very happy in this part. Her costume has flowers, socks, pencils, keys, food, and candles stuck on it ? miscellaneous things. Gary?s miscellaneous box has all the trains that don?t fit on his HO track. Jocelyne?s family has a miscellanous drawer in their office, with a label maker and old pens in it. We think the word ?miscellaneous? should be on our spelling test!
The author uses definitions during a sentence. We made up sentences like hers. ?Victoria, not a city in Texas, but a girl in second grade,? and ?Lucky, not an adjective, but our guinea pig!? On the edges of the pages there are Sage?s sentences that were homework for the students. The illustrations are terrific. They are colorful, and made out of scraps of lined paper like we have at school, and that shows that Debra Frasier reused paper.
We recommend this book to kids who want to figure out what big words mean. Teachers would like this book because their students will learn some new words.