Grandma, Felix, and Mustapha Biscuit
Written by Victor Ambrus
Illustrated by Victor Ambrus
Reviewed by David M. (age 8), Alan H. (age 7) & Ruben D. (age 7)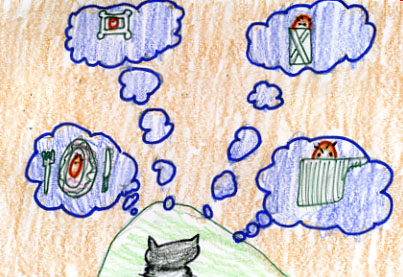 A little hamster, a parrot, a cat, and Grandma share a house together. Felix wants to eat the hamster! When Grandma goes shopping, Felix gets a safety pin and tries to unlock Mustapha?s cage. The rest of the story is about Felix trying to get Mustapha. You?ll have to read the book to find out what happens!
This story comes from England, and a biscuit in England means a cookie in America. Mustapha Biscuit likes to eat biscuits. If we were called Mustapha, our names would be Mustapha Oreo, Mustapha Pizza, and Mustapha Donut. The picture of Mustapha looks just like a real hamster. Lucky is our class guinea pig. Mustapha and Lucky are both little and round, fluffy and plump. Lucky eats a lot, and Mustapha eats a lot, too.
We like Felix because he is hilarious. He always wants to get Mustapha. Mustapha and Felix don?t get along. One night, Felix dreamed of hamsters on toast, hamsters with ketchup, and grilled hamsters with gravy and vegetables. We love these pictures, but they are scary to Lucky. Our favorite character is Mustapha Biscuit. One time, he picked all the fur off of Felix?s tail, so Grandma had to knit a multicolored sweater for his tail! He made Felix look ridiculous.
We recommend this colorful book for second and third graders, and for anyone who likes super-funny books. People who have cats or rodents for pets would like this story. This book is out-of-print, so look for it at your local library.