Rumpelstiltskin
Written by The Brothers Grimm
Illustrated by Dennis Hockeman
Reviewed by Lilly A. (age 8) & Lauren W. (age 8)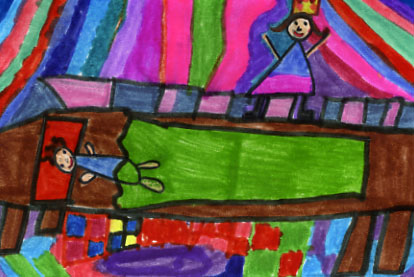 The miller?s daughter was confused. Who could ever spin straw into gold? Lauren bet she thought that was impossible! But if she doesn?t do this by morning, she will die! She gets some help, so she doesn?t die, but she has to give the little man something in return. Something very special.
The pictures are detailed, colorful, and realistic. In one picture, the little man looks like he?s going to explode. The baby?s face looks like he?s thinking, ?What is going on? This man is funny.? We like the miller?s daughter because she is sweet. She did not tell her father she does not know how to spin straw into gold. She does her best for the king. She would be a good friend. Lauren likes the king because ?he has a passion for gold?. She likes gold, too. She has a gold coin which she keeps in her piggy bank. The king is really greedy about gold. Gold, gold, gold is all he wants. We like the part when the queen said his name, Rumpelstiltskin. He jumped on his cooking spoon and flew off.
We recommend this book for people who like fairy tales, and people who like kings and queens.