Geronimo Stilton I'm Too Fond of my Fur
Written by Geronimo Stilton
Illustrated by Larry Keys
Reviewed by MacKenzie K. (age 9)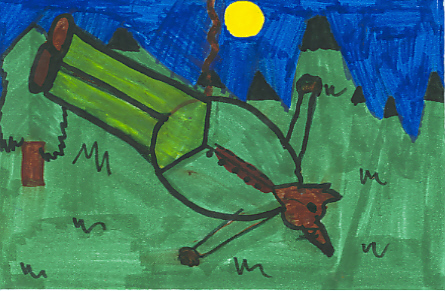 I'm Too Fond of My Fur is a book about a mouse's adventures. Geronimo Stilton, a small, scaredy- mouse, gets a phone call from one of his friends who's a scientist. He says he is on Mt. Everest and he says something on the phone, but Geronimo can't hear him. Geronimo is worried. Is his friend in danger? He wants to know. He tells his family he will be leaving and they want to go with him. They go to the Himalayas and there they find a tour guide who will help them on their journey on Mt. Everest to find the missing scientist. Read the book to find out if the scientist really is in danger, and to see what happens to "scaredy-mouse Geronimo".
I like this book because Geronimo is a very funny character. He screams when he sees shadows, and he gets in trouble a lot. This book reminds me of Charlottes Web because all the animals talk in their own way. The animals all have their own persalities, just like people characters. My favorite part is when the yeti grabs Geronimo by the tail and carries him into his cave. A yeti is a white hairy monster, and everyone thinks that Geronimo will get eaten. Dun,dun,dunnnn . . . . .
Another good thing about this book is how the font changes style and color, and sometimes it makes pictures. It is very unusual, and it makes it really fun to read.
I recommend this book to all people that like mice, because this book is all about mice that are very, very funny. I think kids who are in second grade and older would like it.