Aquamarine
Written by Alice Hoffman
Reviewed by R.L. (age 8)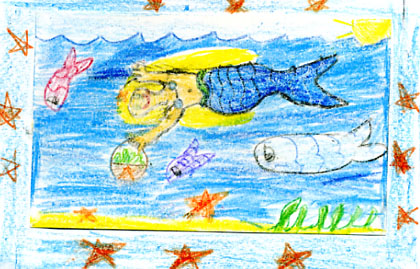 Aquamarine was a great book! There were 2 girls that went to a swim club every weekend. One day when the pool water was light blue, a boy found himself in danger. When the girls went to save the boy; they came across a mermaid that was never there before. While the mermaid was there she fell in love with a waiter. The waiter was moving to college and wasn't coming back. Before he left, he spent some time with the mermaid out of the water. She knew mermaids should not go out of water but she did! Do you think the mermaid will see the water again?
I enjoyed reading this book for many reasons The first is a beautiful mermaid that wonders about. The second reason is people discover a long lost mermaid with a tail that sparkles. The third reason is there are strong details. They made the story so descriptive that I could imagine every part. It has strong details, amazing charters and it was creative.
I recommend this book to people that like to move. A mermaid that lived in the ocean moves into a pool. One of the girls moves to Florida. Also one waiter moves to college. Read this book if you like to move!