Mickey and Goofy Down Under An Adventure in Australia
Written by Walt Disney Productions Presents
Reviewed by Penelope K (age 7)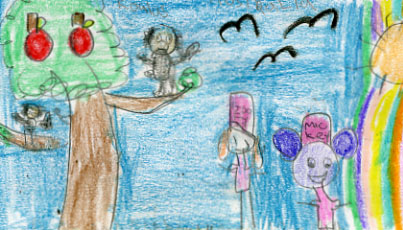 Mickey and Goofy traveled to Australia to find some eucalyptus leaves for the koalas at the zoo. Meanwhile they learn a lot of interesting things about Australia. They learned about Sydney, Australia's oldest and largest city, about kangaroos and koalas, and about the first people in Australia names aborigines. Mickey and Goofy found the eucalyptus leaf and got back to the zoo. The zookeeper was very happy.
My favorite part is when Mickey and Goofy go to Australia. I like it because they feed the koalas. My favorite character is Mickey, because he takes care of the animals. This story relates to my life because I like animals. This story has pictures, but they do not help the story.
I think others should read this story because it teaches you about a new country's culture.