Dream Horse
Written by Bonnie Bryant
Reviewed by Jessie P. (age 8)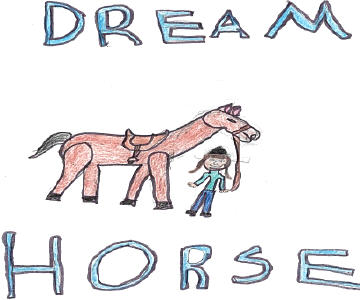 This book is about three girls. Two of the girls have horses and one is longing for one. The girls names are Stevie, Carole, and Lisa. There is a girl that always has to be perfect. Her name is Veronica. One day Stevie, Carole and Lisa were riding in an outdoor arena. Veronica blew a whistle and Bella bucked Stevie off. Stevie got very badly hurt and had to go to the hospital. She had a lot of weird dreams. I want you to find out the exciting part and the end, so you'll have to read the book.
I really enjoyed this book because I love horses. In some parts I felt excited and sometimes I felt scared. It did not remind me of anything in my life, but I loved the book.
I recommend this book to other boys and girls who love horses. If you like horse adventures I think you would like this book.